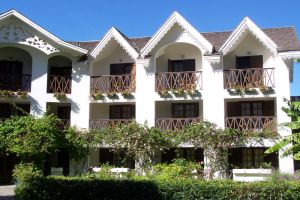 Next to the center of the village of Cilaos Le Vieux Cep is a gorgeous and typically Réunion Island establishment, located in the heart of a family estate.
The warm greetings and the authentic Creole atmosphere of place are delightful. Le Vieux Cep is an ideal starting point for hikes in the Cilaos. Carefully decorated, the comfortable rooms offer a breathtaking view of the 'Piton des neiges' and the village of Cilaos.
Le Vieux Cep is the ideal place for an unforgettable stay in Reunion...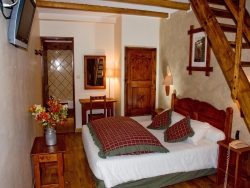 Accommodation:
Le Vieux Cep Hotel now includes 45 rooms, all very comfortable, well heated, in a mountain chalet style and all the rooms offer stunning views from their private balcony:
21 Superior Rooms: Decorated with care the rooms are very comfortable and are all equipped with a bathroom with tub, toilet, hairdryer, telephone, flat screen television with satellite TV channel, wood furniture and heater. The rooms may accommodate 2 adults and 1 child.
24 Standard Rooms: Well-decorated and equipped with toilet, bathroom with tub, telephone, flat screen television with satellite TV channels, heater and terrace offering a stunning view of the garden & the surrounding mountains.
3 of the rooms are reserved for disabled person.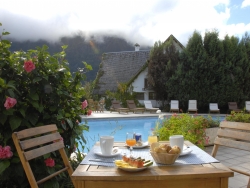 Facilities :
Double or twin beds
Bathroom: with unseparated bath and toilet
Room Service: available on request
Direct telephone
Television: satellite, flat screen in a Superior room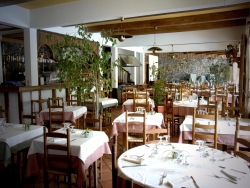 Restauration :
The restaurant offers a copious menu with its traditional courses in a warm & familial atmosphere. A continental buffet is served for breakfast from 07:00am to 10:00 am.
They offer a wide choice of Creole specialties and also offer a cuisine with full local specialties of Cilaos.
Activities :
Swimming pool heated all year
Jacuzzi
Land activities : Table Tennis, Badminton, Pool Table, Games room: various games + room dedicated to children, Beauty Institute *, Massages*, VTT*, Climbing, Relaxation area, Tennis *
Canyoning *
* Paid activities
* These informations are not contractual and may be subject to modifications.